About the Public Square
The Newborn Screening Public Square is an open space dedicated to ongoing conversations about newborn screening. It's not just a forum—it's a commitment to new ideas, knowledge sharing, and bringing together a range of communities and experiences in newborn screening to improve education and awareness. Whether you're a health professional, parent, policymaker, researcher, or someone simply interested in newborn screening or health education, we welcome you to join the conversation!
Each public square discussion is moderated and open for comments for a certain period of time, ranging from two weeks to a month. These discussions will be kept online for readers even after comments are closed. We're always looking for great discussion ideas, so if you think of one, please let us know.
Getting Started
Authenticity is important to help us maintain a respectful conversation. To comment on a public square, you will need to log in with a LinkedIn, Facebook, or Google account. You can find this at the bottom of any ongoing discussion.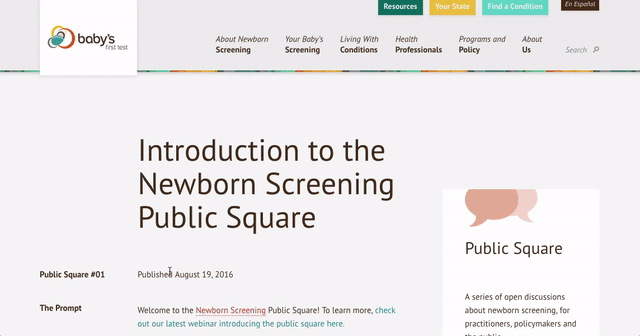 How It Works
After you sign in, you will see a comment box at the bottom of any ongoing discussion.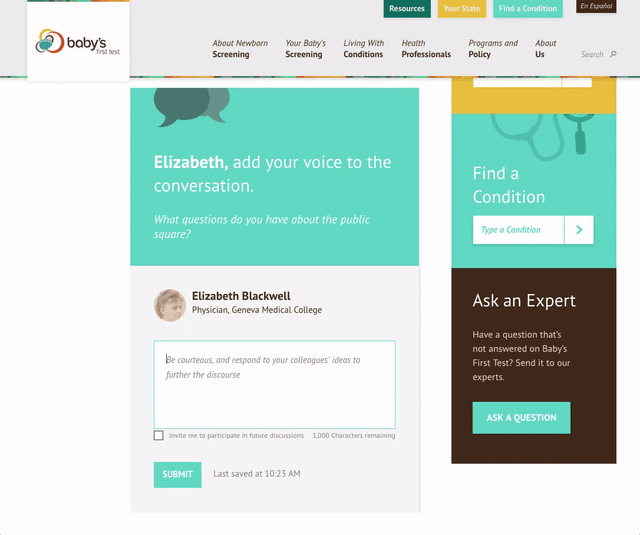 Once you submit a comment, it is posted immediately, and you cannot edit it. Comments are public and visible by anyone.

No one will edit or remove your post as long as it is curteous and respectful.

Our moderators are professionals in newborn screening or public health. Moderators are only there to help guide the discussion. They may sometimes feature responses that they find helpful for the conversations. Moderators' comments and features do not reflect the opinions of Baby's First Test.

When comments are closed, the discussion will remain on the website for others to read.
Thank you, and we look forward to having you join our ongoing conversations!
If you're having trouble using the Public Square, want to send us feedback, or would like to suggest a topic, 
please 
get in touch.
Your input helps us improve the site for parents and practitioners. Leave us feedback about this page.
Was this page helpful?